The Chicago Daily Law Bulletin features WOMN principals Marla Persky and Debra Holzman in an article this week by staff writer Roy Strom, headlined "GC career tips from a woman who's done it." We can't link to it — the Bulletin online is for subscribers only — but we can quote from it:
Not every general counsel role is filled by search firms. It really requires a lot of networking … And unfortunately, a lot of people network only when they need something, and that's sort of too late. You need to be building and maintaining your network when you don't need to ask somebody for something.

— Marla Persky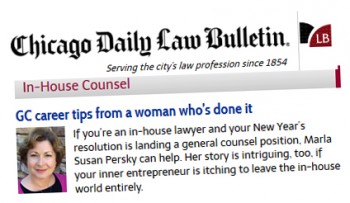 The article does a good job summarizing where WOMN has had success so far.
"Pairing senior associates or junior partners with general counsels, the program helps women hone the finer points of growing a book of business in their law firms. The first mentor programs were based in New York, but they are expanding to Chicago in July and currently accepting mentee applications.
"Proving that even the best-laid plans for change can come with surprises, Persky didn't expect that roughly 40 percent of her time would be spent mentoring would-be general counsels on how to land the leading role in a legal department. She also counsels new general counsels on how the role is different from other in-house positions."
We're delighted with the recognition.