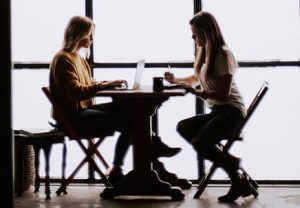 WOMN LLC's premier offering is a year-long program providing high performing female senior associates and junior partners with the tools and connections to improve their business acuity.
Components of the program include:
One on One Mentoring: Select female law firm attorney participants are matched with a female General Counsel, Deputy General Counsel or Associate General Counsel for one-on-one mentoring.
Monthly small group mentoring sessions: Participants meet to discuss a broad range of topics, including but not limited to, branding, networking, client development, and understanding financial drivers. These sessions have approximately four participants and are led by Marla Persky, retired General Counsel of Boehringer Ingelheim USA Corporation and former General Counsel of Baxter International Inc.
Quarterly Meet & Greets: Participants have the opportunity to practice business generation and networking skills in a safe environment of participants and their corporate mentors. Each Meet & Greet will include a speaker on entertaining business topics, as well as drinks and appetizers.
Individualized Development Plans: Each participant will create targeted goals for expanding and/or using business skills, both at the beginning of the year-long program and at its conclusion. Each plan is created with the input of the participant, key contacts from the participant's law firm, and Marla Persky.
Upon completing the 12-month program, each participant will better understand the business of law. She will have honed her networking skills and feel confident as a rainmaker and leader within her law firm.
For more information, please contact Marla Persky at marla@womnllc.com or Debbie Goodman Holzman at debbie@womnllc.com.