Browsing Posts of Author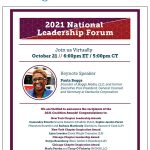 A dear friend and former participant in the WOMN Chicago Chapter 12 Month Mentoring Program, Stephanie Jones, Co-Managing Partner of the Chicago office of Gordon Rees Scully Mansukhani, nominated us to receive the Inspiration Award from the Coalition of Women's Initiatives in Law. The recognition is wonderful and wouldn't be possible, or deserved, without the more…
By Sheila Murphy We at WOMN are fortunate to work with the best and the brightest talent. It is gratifying to have that fact recognized by others. We are pleased to announce that Benchmark Litigation named a number of our participants, past and present, to its 40 & Under Hot List which recognizes "the top more…
An article I co-wrote has been published by Bloomberg.  The article discusses an eye opening survey conducted by BarkerGilmore and the Chief Executive Group that highlights the disconnect between what CEO's want from their General Counsel and what they receive.  Four out of five CEOs want their general counsel to be a strategic business partner more…
Sheila was recognized earlier this year for her commitment to advancing the empowerment of women in law.  See her interview here. https://www.law.com/corpcounsel/2019/12/02/women-influence-power-in-law-2019-sheila-murphy/
Although we have made progress..we have a long way to go.  A picture says a thousand words.
On October 17th, Sheila Murphy was recognized by Women, Influence, Power in Law for her dedication to and success in helping women and people of color in the legal profession achieve their career goals. As a tireless advocate for others, Sheila received the Lifetime Achievement Award.  This is, however, a bit of a misnomer because more…
Don't let the name of the award fool you, Sheila is still firing on all cylinders and continues her work to help women succeed at the business of law with WOMN LLC.  Congratulations to Sheila.
On July 11th, in San Francisco, Sheila Murphy spoke at a Bubbles, Bites, and Bits of Wisdom event at Littler Mendelson on refreshing, renewing & reinventing yourself. Sheila observed that in a world where the speed of business and life is ever-increasing and technology is creating and eliminating job functions, it is more important than more…
and Bits of Wisdom, Bites, Bubbles, Littler Mendelson, Sheila Murphy
We are pleased to announce that Tracy O'Flaherty, WOMN LLC's SVP, Programming & Development and Lead of the Chicago 12-month mentoring program, is taking on an additional challenge.  Effective August 19, 2019, Tracy will become Groupon's Vice-President, Deputy General Counsel, Global Litigation, Employment & Compliance.  Always the consummate overachiever, Tracy will continue leading the Chicago chapter of the WOMN LLC 12-Month Mentoring Program. Tracy's role more…