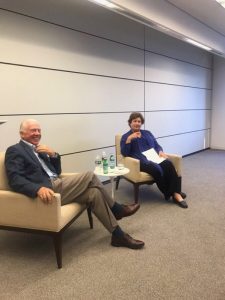 Marty Carroll, former CEO of Boehringer Ingelheim Corp., was interviewed by Marla Persky at a recent networking event held by WOMN LLC and hosted by Kirkland & Ellis.
During the interview Mr. Carroll discussed the importance of tone at the top and how he relied on his entire leadership team to amplify the tone he set around ethics, customer focus, diversity & inclusion.  All C-Suite members, however, aren't created equal.  According to Marty, he particularly relied on his GC and CHRO for organizational advice, strategic thinking and culture.
He stressed that having the ability to step back from legal issues, survey the entirety of the landscape and help the team come up with the best solutions is what separates good GCs from great GCs.