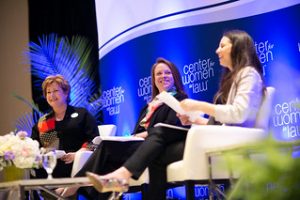 Marla Persky recently led a panel discussion at the Center for Women in Law 2019 Power Summit about "The Power of Three."  On the panel were Adrienne Monley, Head of Investment Stewardship for Vanguard in Europe and Danielle Sugarman, VP Investment Stewardship at Blackrock.
They discussed the benefits, from an investor perspective, of having a diverse board of directors.  Tokenism is not the equivalent of diversity … Research shows that, depending on the size of a board, at least three female or other diverse directors sitting on a board increases shareholder return.  In short, companies with diverse boards of directors perform better than their peers which do not have diversity either in the boardroom or the C-Suite.
It simply goes to show that doing right thing culturally and ethically leads to the right thing economically.