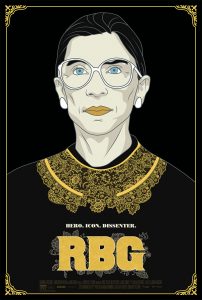 By Marla Persky & Tracy O'Flaherty
There have been innumerable fine legal scholars, strong female role models, and agents of change; however, finding all these qualities in one person is rare, but find them we did in the 100 pound dynamo, Ruth Bader Ginsburg.  We at WOMN are in deep mourning for the country's, the legal profession's and humanity's loss. Justice Ginsberg was a pioneer in the field of law.  She was one of only 9 woman in the entering 1L class of Harvard and the only mother.  She and her beloved husband, Martin, made a formidable team and remained side-by-side as true equals and partners in life until his passing.  RBG was appointed to the D.C. Circuit in 1980 and elevated to the Supreme Court in a 96-3 vote by the Senate in 1993.  Throughout her time on the bench, she presided over critical decisions that expanded equal protections of the law to all and fiercely advocated for equity and equality.
Much has been written about RBG.  She has been the subject of documentaries and feature films.  She amassed a lifetime of incredible personal and professional achievements.  She was a true beacon of justice and role-model for all women.  She made this country a better place for all.  Her loss is palpable.  RBG made a  difference in the world  — she will be forever remembered, appreciated and revered.